Our basis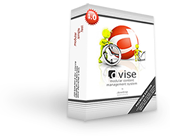 Our modular and indepth customizeable content management system (CMS)
.dvise
offers a recent setup of your project with full accessibility from your side.
.dvise reduces time and expense involved in making website updates. Highly cost-effective, it doesn't require any technical skills or knowledge of HTML.
It will help your business and increase your return on investment (ROI). Simple and straight-forward, competitively-priced — .dvise is the ideal choice. You can create, edit and publish fresh content right away, keeping a consistent look and feel by usage of pre-defined templates.
Our gimmicks
Using available techniques for mobile devices will help your business and increase your ROI even more. Those established methods complement your web project and offer more possibilities to your clients.

Your effort
Implementing a CMS-based website will offer huge opportunities to your business.
Contact us
today to find out more about .dvise and its possibilities or our mobile services.
Dipl.-Inf. (FH) Jörg Lingott
CEO / Founder
+49.160.7969094
Jörg Lingott bei XING
vCard download